R and D Archive and Library

Welcome to the Code Zebra Archive and Library. This archive will grow over time and become a place where you can post papers, events, information. The archive provides a history of key Code Zebra events, ideas, tangents, inspirations and mistakes. Sections will activate as these are built. Investigate these categories: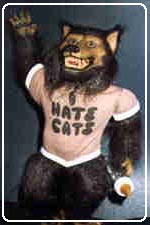 Past Zebra Crossings, Safaris
Famous Zebras and Other R and Dıs
Dr.Brute
Turing: Reaction/Diffusion
Zebras and Cracking the German Enigma Code
Zebra Fish and Joe Davis
etc.
Art and Science Bibliography
Art and Science Dialogues (Papers, Discussion Groups)

creative disturbance
The Human Shareware
Iceborg
MUTE SYNAPSE
Leonardo
Digital Secrets

Lycanthropy
AMOK Reader A Lycanthropy Reader : Werewolves in Western Culture : Medical Cases, Diagnoses, Descriptions, Trail Records, Historical Accounts, Sightings, Philosopy
by Charlotte F. Otten(Editor).
Man Into Wolf: An Anthropological Interpretation of Sadism, Masochism and Lycanthropy. Robert Eisler
Witchcraft, Lycantropy, Drugs and Disease: An Anthropological Study of the European Witch-Hunts (American University Studies XI) By H. Sidky
Failed R and D applications
Past Chat